Prévisions de Surf et Bulletins de Surf Mondiaux

Surf-Forecast.com fournit des prévisions de surf et des surf reports pour plus de 7000 des meilleurs spots de surf du monde. Nous fournissons aussi des cartes de houle, de vent et un système d'alerte de de surf et vent personnalisable pour les surfeurs, véliplanchistes et kite-surfeurs. Regardez aussi nos webcams, prévisions de vent et notre Vagu-o-Mètre local avant d'aller surfer.
Delaware Vagu-o-Mètre:
Houle avec vents favorables
United States Vagu-o-Mètre
Houle avec vents favorables
Vagu-o-Mètre Mondial de Grosses Vagues


Houle puissante avec vent léger ou vent de terre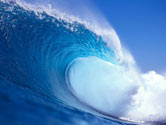 Spots de surf dans votre région
* D'après votre position géographique approximative (calculée avec votre adresse IP), voici les spots les plus proches de vous. Cliquez sur les noms des spots pour voir leur prévisions de surf.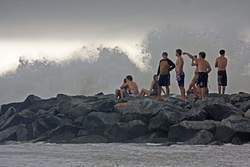 Photographe: Bill Reilly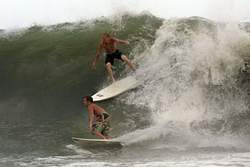 Photographe: Bill Reilly

Coolum:

'Coolum surf: 1.4 metres(5') 10 knots SE. The S protected stretches and E facing points early on the dropping tide before the ESE winds get up. Fun ones in the outer bays at Noosa also on the dropping tide.'

Still clean here at dusk. About head-high with fast-breaking lefts and rights. About 10 surfers out. Cloudy and dry again following rain.

About head-high and great shape again. Make the most of it before the wind changes around lunchtime and too much NE swell comes in on Sunday.
Photos de Surf
de la galerie
Derniers commentaires
La Tranche sur Mer Spot de surf:
"Ce spot est dégradé par les aménagements de pontons qui ont ensablé et modifié le fond, c'est un spot de repli sous vent de nord, nord ouest et ouest, zéro chance que ça marche sous un vent de sud ou sud ouest et finalement , c'est blindé, gavé de monde de tous niveaux (mais bon pour le slalom) pour au final ne jamais espérer mieux qu'une vague de 1m, et contrairement à ce qui est dit , ce n'est pas le seul spot de repli, même à proximité ;o))
bon surf
un vendéen pur local!"

Laurent de FRANCE - 29 Jan 2021
Cliquez ici pour faire vos commentaires sur La Tranche sur Mer
Playa de Doninos Spot de surf:
"Super spot pic de gauche incroyable, tres accessible malgre la qualite, tube a la cle. Houle dominante nord et vent de nord meme fort 35 noeud et super a l'abris. meilleur option lorsque pantin est onshore. Locaux plutot cool super parking pour dormir douche et toilette dispo.

Amazing left, work very well by all north swell, and protect from north wind. The place to be when Pantin is onshore. Kind local surf, shower, toilet, and parking to sleep."

Patxi de FRANCE - 21 Jul 2020
Cliquez ici pour faire vos commentaires sur Playa de Doninos
La Paillotte Spot de surf:
"La paillotte...le nom déjà montre bien le décor, pour les vagues pas de risques les seules existantes sont dans les verres de pastis! Pour le localisme, pas d'inquiétude, laisser les dans leurs lac patauger dans et faire des ronds dans l'eau...cest nul ce spot, il ny a vraiment pas de raison de se battre pour un truc pareil!
Aloha from Hawaii"

Frédéric de UNITED STATES - 06 Mar 2020
Cliquez ici pour lire 2 autres commentaires sur La Paillotte ou pour en faire un vous-même.
Un Message sur les Spots Secrets
Pour ce site web, nous avons tenté d'inclure les principaux spots de surf du monde entier. Si, d'après vous, nous révélons un spot secret, dites-le nous et si nous sommes convaincus, nous le supprimerons.